Around the La Cucina
The right location in any case!
The station can be reached within 5 minute walking distance, it is only 2 minutes away from the highway. So the La Cucina is the perfect starting point for any kind of trip or excursion in the area around Graz.
The Lurgrotte and the Sensenwerk are in the immediate vicinity as well as the entry to the bicycle track next to the river Mur and the mountain area around Graz. More information about the Lurgrotte can be found here: https://www.regiongraz.at/de/sehen-und-erleben/sightseeing/ausflugsziele/lurgrotte-peggau_af-1213
The city Graz can be reached by train or car in only 20 minutes and the Red Bull ring in Spielberg in about 35 minutes by car.
The La Cucina is the right address for a single night stay as well as a short trip or longer stay.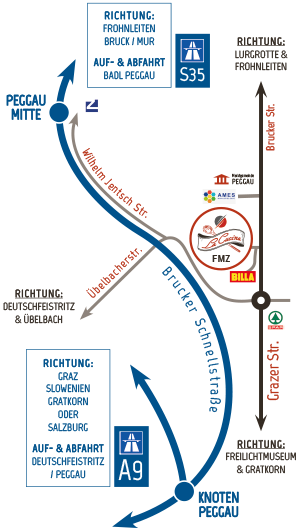 You can travel relaxed and environmentally friendly by train. There is a direct connection from the airport via main station Graz to Peggau.
ÖBB>>

The La Cucina is also great for a stopover on your way to Croatia.